Greetings! Today I give you…something creepy….. Ahhhh, it feels good to be creepy again. I have been doing a whole lotta cute…which is great, but I much prefer dark and kinda evil. Mwahahaha! My 2nd post today (that's right! Second.) is for Wicked Wednesday. We are sponsored by Delicious Doodles this week, and the theme is "Horrorscopes."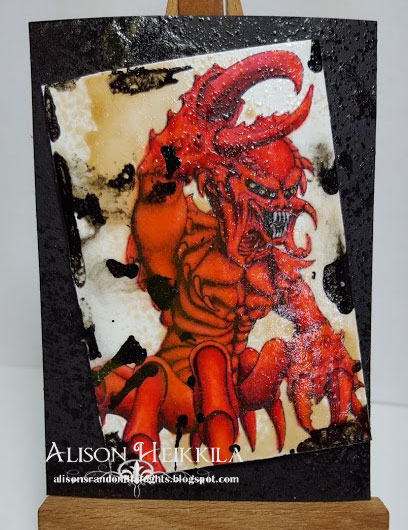 I worked with Scorpio, and I colored him (very carefully!) with my Memento Markers from Imagine Crafts. Then, I went to town with some irRESISTables sprays, also from Imagine Crafts. I used Desert Sand and Tuxedo Black.
You can see the shine and texture that the irRESISTables have. I love that stuff!
Please be sure to visit the Wicked Wednesday Blog to see what other Horrors the team have to share with you. Thanks for stopping by. Have an inspiring day!