Happy Easter! Today, I want to share a card for you that I made for my family. Fairly recently, I saw some freebies from Useless Trinkets, and I quickly became pretty nuts over the images. I haven't had much time to make projects just for the sake of making them, but I knew I just had to make one with Cookie Jar the unicorn today. I'm telling you, these digis are the shit. Sometimes a little creepy, sometimes a little cute, and always freaking hilarious.
So apparently, the Easter Bunny is sick, so Cookie Jar the unicorn decided to step in and help out. What a good friend!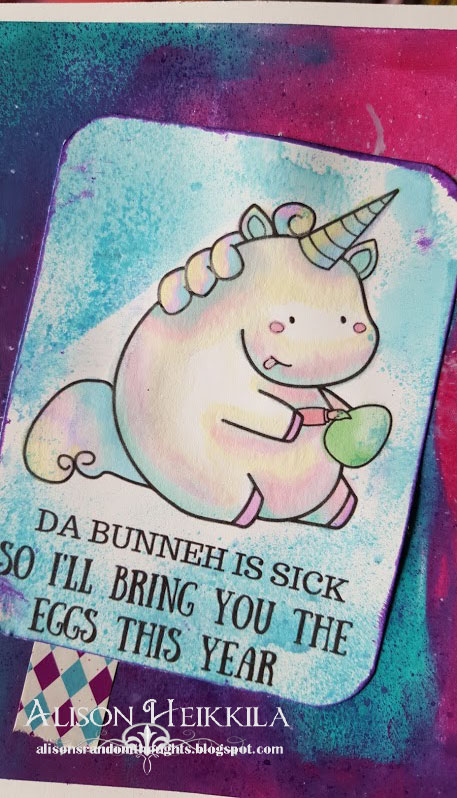 I used watercolors for Cookie Jar, plus a bit of Fireworks Spray from Imagine Crafts on his background. For the main background, I opened up my first to pots of Dylusions paint (I have wanted these paints for SO long! I can't wait to get more colors!), and I finger-painted it. I also used 2 Dylusions sprays on it.
A teeny piece of washi tape was the only other thing I thought the card needed. Much to my delight, when my husband opened the card, he let out quite the guffaw. He loved it and thought it was really funny. Thank you so much to Jessa, the artist behind Useless Trinkets, for these fantastically fun images. I adore them, and i can't wait to color up some more. I have Gustav the Monster all printed out and ready to go. He's sad that I haven't colored him yet, but if I get all of the cooing I need to get done soon, he's next on my list of projects. Thanks for stopping by. Have an inspiring day!