Happy New Year! Welcome to 2016! I hope you are going to have a craft-tastic year…that's what I'll be aiming for. I have an adorable new image from A Day for Daisies to share with you today. It's from the January Club kit, and it's called Penguin Party.
I did very minimal coloring on this card….only a little bit on the penguins. The focus just hadto be on their ginormous balloons!
I used 4 colors of wonderful Stampendous glitter. I started off by using Zip Dry glue by Beacon adhesives on my first balloon. Then I sprinkled Gold Halo Mix glitter on to it, and shook off the excess. I repeated this step 3 times with Burgundy, Mahogany, and Copper glitter. The Zip Dry dries quickly, so I finished the card pretty quickly after all of my glitter was applied.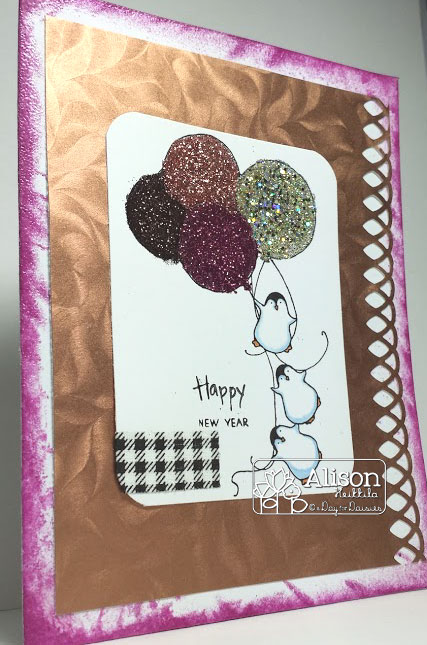 I had some fun copper metallic cardstock that I used for my background, and I put 2 Stampendous sentiment stamps together to create my "Happy New Year." I added some fabric tape in a fun check pattern, and I inked the edges of my white card base. Ooh! And I used a fun EK Success border punch too. All in all, this was a really quick card to put together. Please be sure to visit the rest of the ADfD team over at the blog. Thanks for stopping by. Have a Happy New Year!