Hello again! It's Day 6 of the Smeared Ink 31 Days of Halloween. Yesterday, I promised that I would have some offerings other than just cards to show you. Well, today is one of those days. I decided I was in the mood to make some earrings. And these were really fun.
I dub these, my Elemental Earrings. You'll see all of the "stuff" in the pics below, but I wanted you to see how they hang on the ear. I incorporated all 4 elements into these earrings, as well as a couple of witchy charms.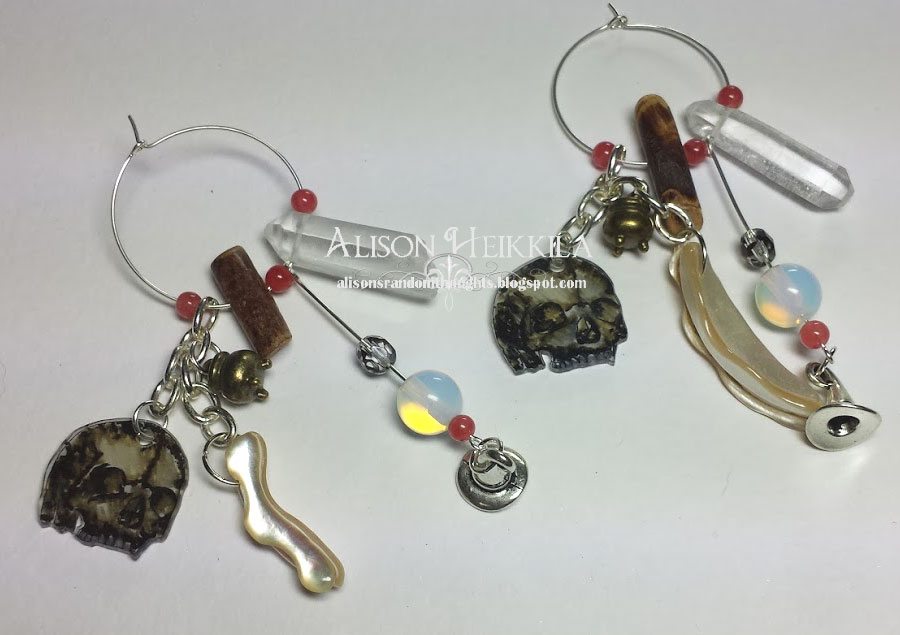 For Earth, I used those cool wood beads. Air is represented by the quartz crystals. Fire is present in the form of the little red stone beads. And Water is here in the form of the shell beads, which I used in their natural (non-bleached) color. For my stamped element, I used the skull from the Smeared Ink Quoth the Raven set. I stamped it on shrink plastic and colored it with Spectrum Noir markers. You can see my little witch hats and cauldrons here too. The opalescent beads are man made…and I hesitated on using them….but I thought it gave the earrings just the right amount of color and shine.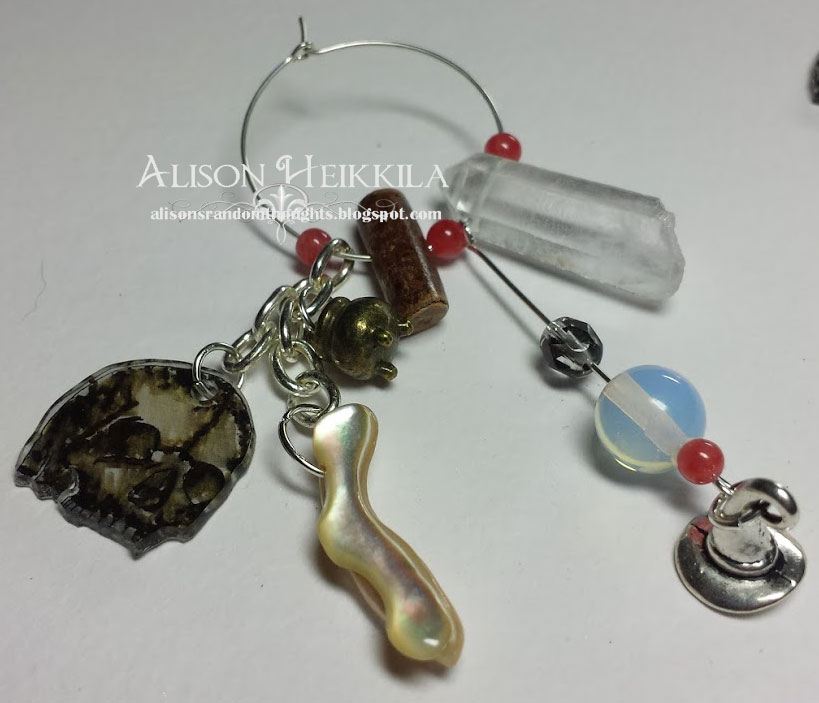 A side note….my sisters, mom, brother-n-law, and I are opening up a new online store called The Happy Medium Shop. It's going to be gothic clothing, jewelry, home decor, and whatever else we decide to come up with. I am probably going to be making similar earrings to these for the shop. So, if you like these, or would like to see what we are working on, please check out our Facebook page HERE, and give us a "like." We'll be selling things in the very near future. Thanks for visiting me today! Please be sure to visit the rest of the Wicked Bloggers…they're all listed in my side bar. Thanks for stopping by. Have a creeptastic day!