Good day to you! It's Day 24 of the Smeared & Smudged 31 Days of Halloween! Today, I am officially posting on Stampendous' behalf, and I think (hope!) that you will like my project. It uses a couple of wonderful Dreamweaver stencils and some fun products from Imagine Crafts.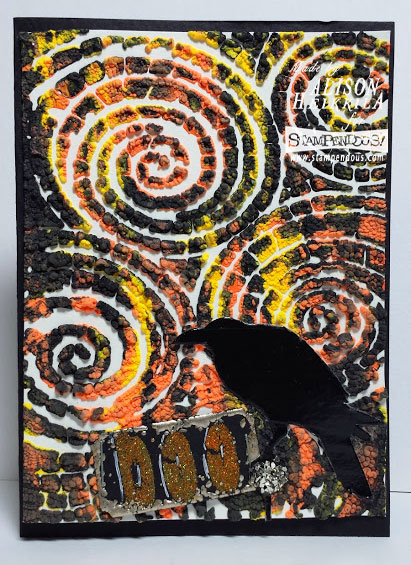 I started off with the Mosaic Swirls stencil, taped to watercolor paper. I took 3 colors of Amplify from Imagine Crafts; Electric Yellow, Electric Orange and Black, and I swirled them around on top of the stencil. I followed the pattern of the stencil a bit, but I wasn't too careful about it. When I felt like I had enough coverage, I used my Paste Spreader to push the color through the stencil and on to the paper, just like you would with embossing paste. I had to go over a couple of areas 2 or 3 times, and I did that with my Palette Knife. When I was satisfied with the coverage, I lifted the stencil off and heated my paper. And that's when it got really fun! I love to watch the Amplify puff up as I heat it! The Amplify becomes soft and squishy…I love that stuff.
Look at that great texture! Then I moved on to my Raven. I used Glossy Black Embossing Paste for him, as it is a nice contrast to the background. I only embossed the raven and the ball he is standing on. I didn't want the weather vane portion for this card. I added some Silver Crushed Glass Glitter to the ball for more shine and texture, Once he was dry, I fussy cut him out. Next, I worked on my "Boo."
I stamped the "Boo" by using the Vintage Lowercase Alphabet set.I used Stamp 'N Bond, and then applied Orange Micro Glitter from the Fall Micro Glitter Kit. Around the edge, I used Aged Silver Embossing Powder from the Silver Frantage Encrusted Jewels Kit. I attached my 3 components to a black card base, and called it completed. This was great fun to make. I'm hooked on that Amplify paint. Please remember to visit the rest of the Wicked Bloggers, all listed in my side bar. Tanks for stopping by. Have a spooktacular day!