Hello! So, I have a new card today for Left of Center. I know, I know…..I should have had this up yesterday. But, time got away and I have been working horribly out of order for the month (sometimes inspiration hits and ya just gotta go with it, right?) so I finished this baby up yesterday. I'm sorry to my fellow LOC teamies. So, for Day 10 of the Smeared & Smudged 31 Days of Halloween, I bring you this card that features DIY Punk from The East Wind. Our challenge is a sketch created by my bestie Kelli Green.
She was super fun to color, and I'd really like to do her in several versions with different color schemes. I colored her direct to paper with my Tombow markers.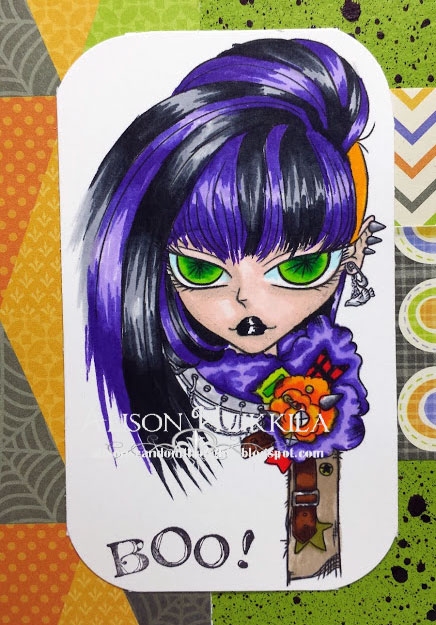 I used some fun Halloween papers, and sprayed my green cardstock with a purple from Memories Mist.
Short post today! I ave a lot of catching up to do. Please be sure to visit the Left of Center Blog, as well as the Wicked Bloggers, all listed in my side bar. Thanks for stopping by, have a fangtastic day!