Greetings! I took a few days off from blogging after the fantastical 31 Days of Halloween. But now it's time to start sharing some fun projects again, and today I've got a Wicked Wednesday project.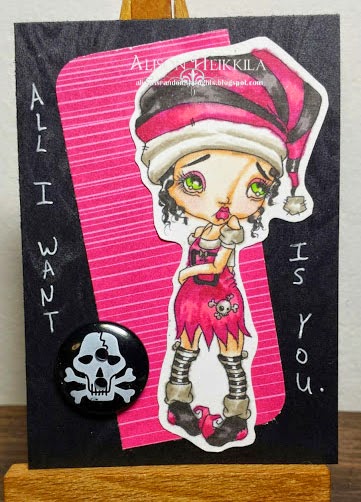 We are sponsored by Oddball Art, and the theme is Skully Christmas. I colored this cutie with my alcohol markers. Remeber, we only use ATC's at Wicked Wednesday, so this is only a 2.5×3.5″ piece.
I'm not quite ready for Christmas, so I decided to use colors other than red and green. And I think her outfit looks great in these colors! I did channel a little of the Christmas Spirit though with my sentiment. I wrote out, "All I want is you," as in the holiday song. Yeah, the song is stuck in my head now….yours too? Sorry!
I hope you can see my black cardstock. It has a beautiful taffeta look to it. I thought it fancied my ATC up a bit. I hope you will join us this week! Please be sure to visit the rest of the Wicked Wednesday team, and join us! Thanks for stopping by. Have an inspiring day!