Greetings! I have some glittery goodness to share with you today! I used one of Dreamweaver Stencils' newest stencils- Chevron Background. I used the Double Glitter technique. Have you seen it before? Feast your eyes on this…….
If you love glitter like I do, then you need to try this technique! HERE is a great video tutorial by Wendy Jordan.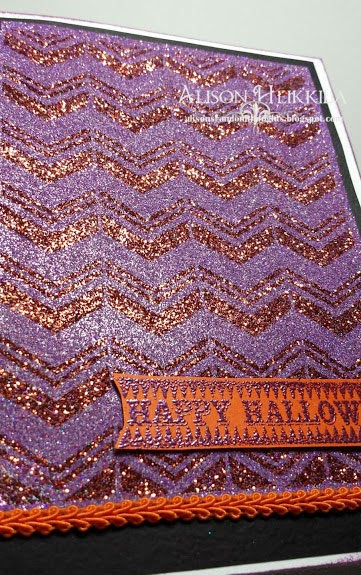 I wish my orange glitter was a little brighter, so that you'd see more of a contrast, but I still think it looks ok. I highly recommend using as fine a glitter as possible when doing this technique, to be sure that you get into all of the teeny places and you get better coverage. My purple glitter is much finer than the orange, and hopefully you can see that it has much nicer coverage.
I kept the rest of the card pretty simple. A sentiment from Recollections (Michaels' own brand), and a cool trim I had, all mounted on to black cardstock. Please be sure to check out the rest of the Wicked Bloggers, all listed in my side bar. Thanks for stopping by. Have a spooktacular day!