Ok friends, today I am cheating. I am double posting with Dreamweaver Stencils today, and I am using the same project for both. I'm sorry! I have been busy with Pampered Chef Shows…fundraisers to be exact…and making costumes for my kids. So today, I decided to not make myself absolutely crazy, and just use the same card twice.
I used the beautiful Damask stencil, inked with Seedless Preserves Distress Ink. I had a really cool pumpkin stamp, from Inkadinkado, which also has a damask print on it, which is what inspired the card for today.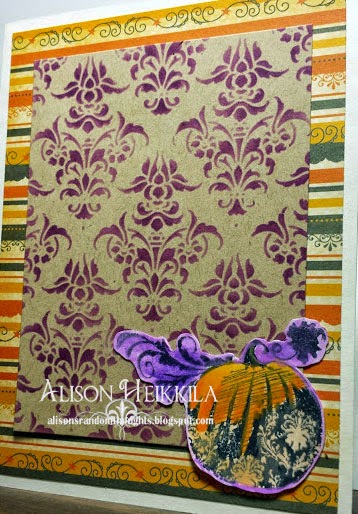 The pumpkin was watercolored, and the 2 elements were layered atop a striped piece of paper. Not overly crazy, this project, because I didn't want the patterns to be too overpowered by anything else. Please be sure to visit the rest of the Wicked Bloggers, listed in my side bar. Thanks for stopping by. Have a spooktacular day!