Hello! I have a Fall themed card to share with you today. I have been inspired by some of the beautiful leaves that Dreamweaver Stencils offers. But make no mistake, I didn't use only stencils today. I used some of the wonderful die cuts that DW offers as well.
I started off by embossing the brand new Oak Leaf (LL 3043) with the beautiful metallic copper embossing paste, also from Dreamweaver. For this card, I didn't smooth out the paste like you normally would. I wanted it very textured. So with my Palette Knife, I added texture by just tapping the surface a bit while the stencil was still in place. I took care to not overwork it, so that I didn't wind up pulling too much paste off.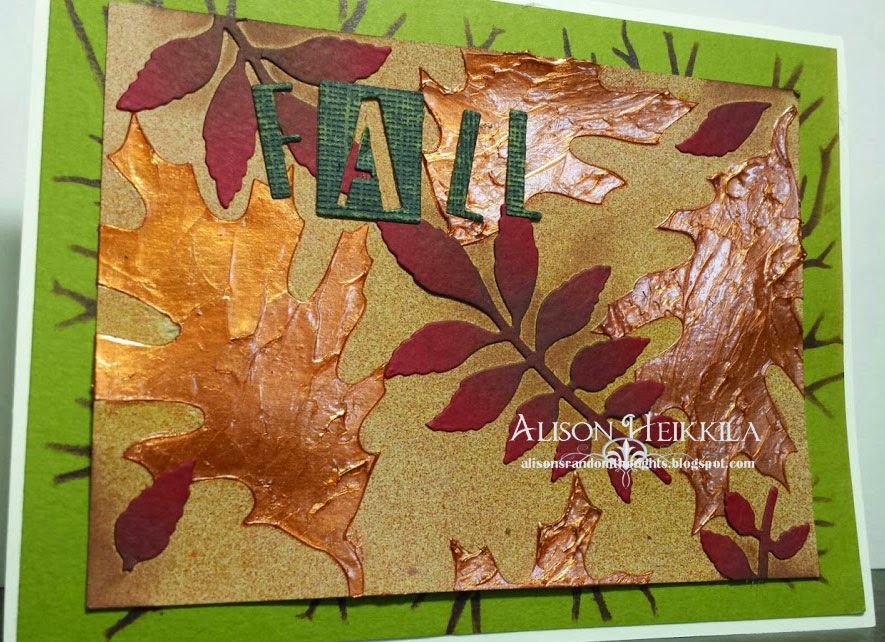 Look at the pretty sheen on those oak leaves! I had embossed to leaves at a time, on opposite sides of my cardstock. This is because I had to allow for drying time before I laid the stencil on any leaves I had already done. Once the first 2 leaves were dry, I pasted the other 2. Meanwhile, I cut out a few of the Leafy Branch (DD003). I glued them down (after all of the oak leaves were dry), and aplied a bit of brown ink to add some dimension. I also cut out the word "Fall" by using the brand new Dual Alphabet Die (it comes with all letters, numbers, and several punctuation, plus fabulous caddy!) and Core'dinations cardstock, which I sanded to show off the texture.
I felt I needed 1 more thing….so I used the Leafless Tree stencil (LX 7020) to add some interest to my olive green cardstock. There you have it! Have you seen the new Dreamweaver Stencils Enthusiasts Facebook Page? Please join us! Thanks for stopping by. Have an inspiring day!