Greetings! My name is Alison. Welcome to my blog, if you haven't been here before. Yes! It's that time of year again! The time when we inspire crafters on both sides of the "pond" with a mix of both
Dreamweaver
and
Woodware UK
* products for the holidays! Six days, SIX, of beautiful, elegant, merry, cute, artsy, and craftsy projects to have you heading out to your local stores or internet sites to buy these goodies immediately!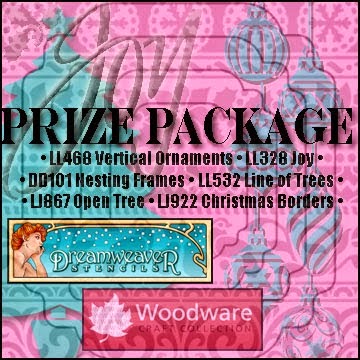 Of course, there will be prizes as well. Three prize packages will be given to three commenters during this week's posts on the team's blogs, including five stencils and one nested die set. You can have an opportunity to win these goodies by leaving some holiday sweetness for each team member posting each day, to be one of the three winners for the week. Here are the team members that are inspiring you today:


Here is my creation:

I used the absolutely adorable Patch Frosty from Woodware and Season's Greetings stencil from Dreamweaver for this card.
I stamped the snowman on Kraft cardstock and then colored him in with colored pencils. I love the look of colored pencils on Kraft. The teeny sentiment is a part of this sweet set.


For the stencil, I turned it on it's side and only used one portion of the stencil (the full image actually says Season's Greetings and has another row of holly leaves). I masked it off with some tape and used White Embossing Paste applied to my cardstock. After it dried, I colored it in with Versa Color inks, utilizing the extremely useful Picasso tool from Dreamweaver. If you need to mask small portions of any image, then you need the Picasso. I also used Red Stickles for my berries.


My background paper came printed with those festive ribbons, which I thought worked really well with these images. I hope you like my project for today. I'll be back later in the week with more for this fantastic collaboration. Thanks for stopping by. Have an inspiring day!


*For a stockist near you contact Woodware Craft Collection in the UK and Notions Marketing in the USA.