Hello everyone! It's time for a brand new Desert Islands Crafters Challenge. This time, we are sponsored by The Stamping Chef, which is a new company for me. How about you? They have some really fab images, as I am sure that you will see from the rest of the DT when you visit the DICC Blog. Here's the itinerary.


1. Lots of pink
2. Sugar skulls
3. Suckers or sweets (lollipops or candy)
4. Hearts
5. Add a feather or wings
6. Pearls or gemstones
7. Add a banner or bunting
8. Stitching (real or faux)
9. Anything but a card
10. Spritzes or sprays



For my project, I used #'s 1, 4, 6, 8, and 10. The image is called Demented Beauty.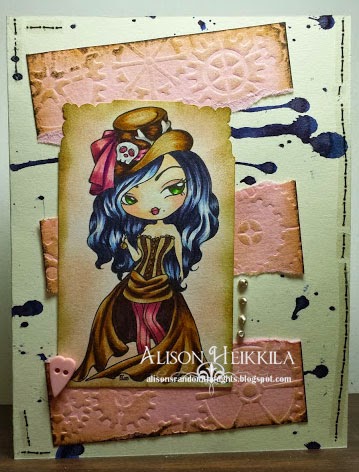 I had such a fun time coloring her! Just enough detail. I guess it may not have as much pink as some of my other teamies….but for this shade of pink, it's kind of a lot for me.


I used watercolor markers to color in the image. And, I got to play with a new (for me) stencil from Dreamweaver! It's called Gears, and I love it.


My spray is also from Dreamweaver. It's a fantastic inky blue, isn't it? I thought it went perfectly with her hair. So off you go! Please be sure to visit the DICC blog to see more fun projects. Thanks for stopping by. Have an inspiring day!