Hello! I have a new Desert Islands Crafters Challenge to share with you. This time around, we are sponsored by Delicious Doodles and Rick St. Dennis. I just won a new image from Delicious Doodles, and I was super excited to use it. Her name is Gothicka, and I think she rocks.
As usual, you need to use at least 3 of the items from our itinerary. Here's the list.
1. Something hidden/a surprise
2. Purple
3. Twine
4. Die cut
5. Heat embossing
6. For a man
7. Dog or Cat
8. Distressed
9. Sparkles
10. Moveable parts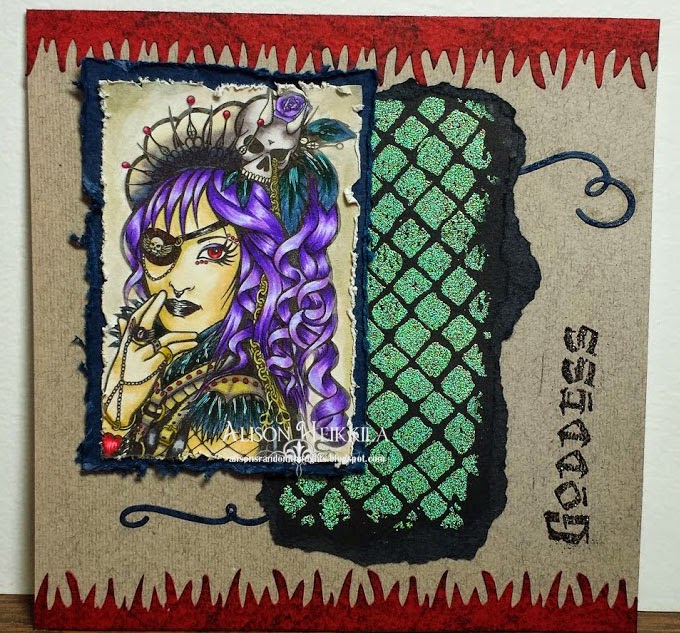 For my project, I used #'s 2, 4, 5, 8, and 9. I made a 6×6 mini page. Seriously, isn't she stunning? I LOVED coloring her.


I colored her with watercolor markers, alcohol markers, and watercolor paints for the background. My husband thinks she looks like me. I disagree, but I also think it's quite a compliment. 🙂


I used some great embossing powders for the "Goddess" (from Smeared Ink) and the snake skin-like background. I hope you can see how pretty they are. Will you play along? Visit the DICC Blog to see more, and to enter your own project.


There is a DT call going out for a new team called A Step in the Dark. I am going to use this project as my entry for the call. It sounds like it's going to be a fang-tastic team…and I really need to start making my darker projects again.


Thanks for stopping by. Have an inspiring day!