Greetings! Today I have a couple of things to share with you. First, it's the 3rd Birthday for Desert Islands Crafters Challenge! I have been with the team since Suzi started it, and it has been a ton of fun. I can't believe that it's been 3 whole years! Also, I have yesterday's new Dilly Beans Challenge. I was in a very special SCACD Blog Hop yesterday, so I had to wait until today to post for Dilly. Did you see my project from yesterday???
Let's start with the Birthday Bash, shall we? Her'e the itinerary. As always, you've got to use at least 3 of the items listed.
Birthday
Party
Cake
Ribbon or Twine
Add some Sparkle
Emboss It – Dry or Wet Embossing
3 Patterned Papers
3 Different Embellishments
Favourite Colours
It's a Gift – Make a Gift or Gift Box/Bag
I used numbers 1, 5, 6, 7, 8. Our sponsor for this challenge is Sassy Studios. I used their Rainbow Brite Sassy. Do you remember Rainbow Brite? I used to LOVE that show, those characters, the books…everything. My mom even made me an amazing RB costume when I was little. I loved it so much I wore it for 2 Halloweens! She even made me a yarn wig! It was rad.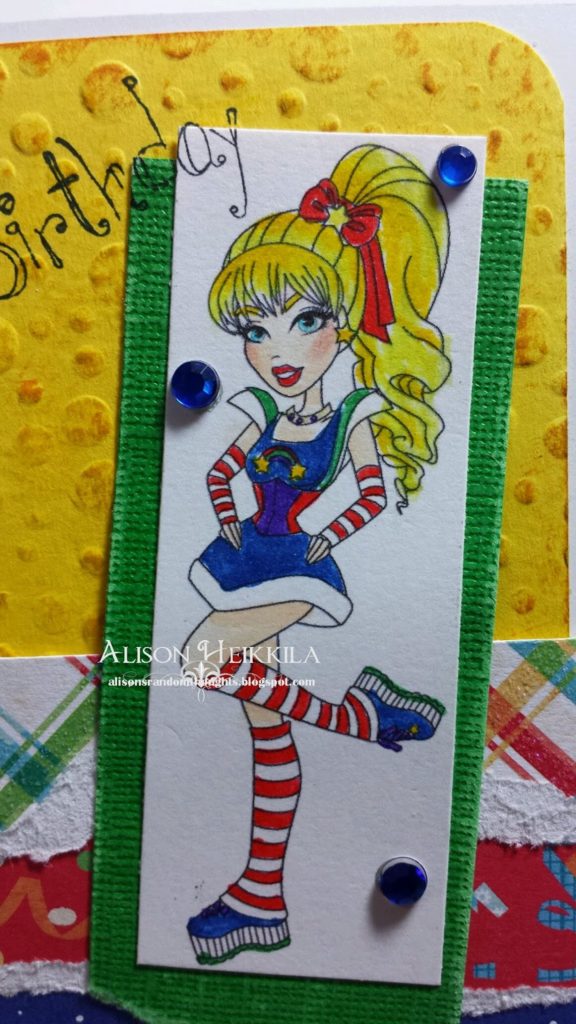 I colored Rainbow with my watercolor markers. I rarely color blond hair and blue eyes, but I really wanted her to look like…her. Speaking of blue eyes….I have another project with a girl with the same color eyes! She's from Dilly Beans, her name is Tula, and I love her. But first, here is the full hop list for DICC-
Alison
Erica
Jenn
Kelli
Lea
Suzi


And there's my little Rhiannon in the back. She helped me finish the card up, and she loves to photobomb pictures. 🙂 This week's challenge is "Shaped Cards," which was a challenge for me. But hey, that's what it's all about, right?


I love this picture. Hahaha! To be more specific, the name of this image is "Tula's Heart." She's new to the Dilly Beans shop and all the DT gals love her. She's also colored with my watercolor markers.


2 cuties for the price of one! I wish I had a new Art Journal Page to share with you today also….but I ran out of time. Thanks for stopping by. Have an inspiring day!