Hello and welcome back! Today I have a card that I created with a Stampotique image that just so happens to fit in with their latest challenge "Handles, Hinges, Buckles, Fasteners, Pulls." I used Prom Queen for this. She's awesome.
I love the style of these stamps so much. They are so scratchy and amazing. I need to add to my (small) collection someday.
She was colored up with my alcohol markers. I actually broke out some Copics for this one. I love her hair. I didn't do anything fancy or fabulous. But the way it's drawn is just rad.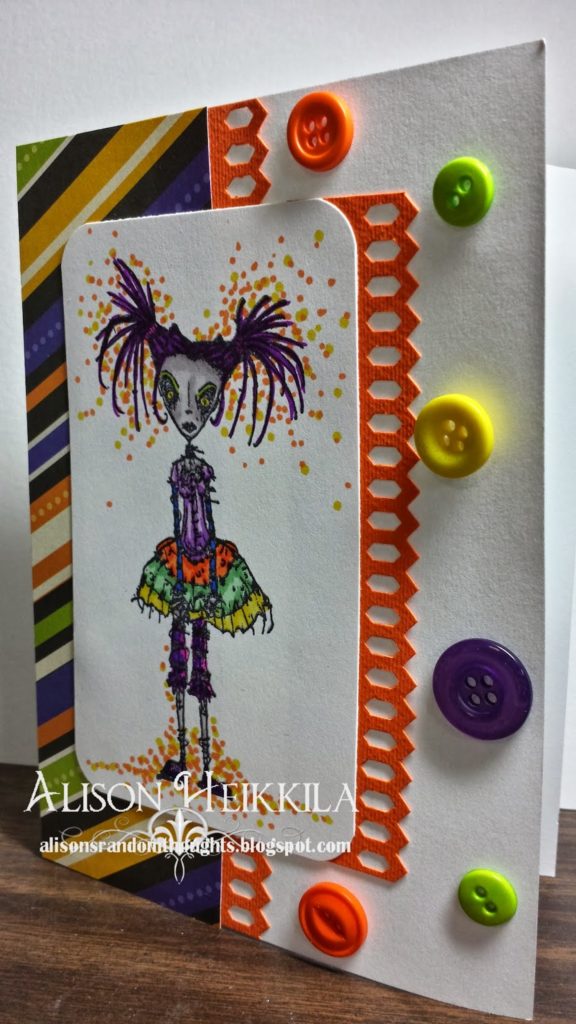 I added a bunch of buttons…not for the challenge…just because I thought they looked cute. Ugh. I said the "C" word. But they do…right? And then it just so happens that it fit the challenge, so….there ya go. By the way, the punch is from Martha Stewart. That chic always has the best punches. I won't keep you any longer. Please be sure to visit the Wicked Bloggers, all listed in my sidebar. Thanks for stopping by. Have a fang-tastic day!