Greetings Bombshell Fans! Today I am bringing you a project that I made to coincide with the February Pin Up, Christine Hill Garner. Her challenge was to create a project using Red & Gold. Here's what I made.
I used a lot of stamp sets for this clean and simple card, believe it or not. I started of course, with Bombshell Angel. But I wanted to change her outfit, so I printed out a couple of outfits from the Fun 'N Flirty Bombshell set. I decided I wanted to glitter up the skirt, and add a pattern to her shirt, so I used the zebra print from the Bombshell Patterns set. Last, but certainly not least, I used a sentiment from the Mermaid Treasure set.
With 20/20 hindsight, I should have given her skirt a base color. I of course thought of this after I squished all of that yummy glitter on. Oh well. Next time. As a side note, my kids loved watching my put her clothes together, especially when I showed them how I was putting the pattern on the shirt. I love that my kids enjoy art as much as they do.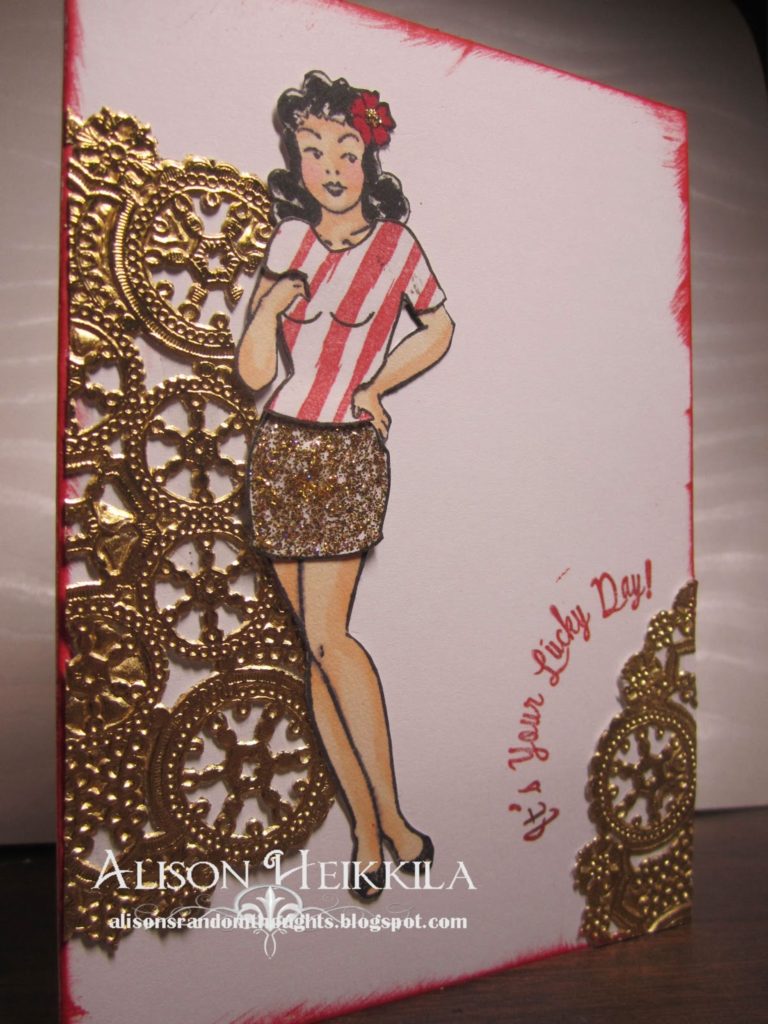 I had some scraps from a gold doilie that I used, and that was it. I think her outfit is funky enough without a lot of other papers and such. Please be sure to check out the Bombshell Blog to see all of the other rad Red & Gold creations. Thanks for stopping by. Have an inspiring day!